EXHIBIT STATEMENT
Nella personale "I figli della luna", MAB – al secolo Matteo Bonetti – vuole ripercorrere le tappe del suo percorso creativo ispirato al mondo classico e al mito. In particolare, attraverso le sue opere MAB ha voluto visualizzare le forme classiche di miti ed eroi della classicità attraverso l'utilizzo composito di materiali tradizionali, come terra, pietra e legno, assieme a materiali contemporanei, come metalli, resine e Corten.
In the solo exhibition, "I Figli della luna," Mab – born Matteo Bonetti – wants to retrace the steps of his creative journey inspired by classical art and mythology. Through his artworks, Mab actualizes the classic forms of myths and heroes of classicism through the use of traditional materials, such as clay, stone, and wood, mixed with more contemporary materials, such as metals, resins and
Corten.
ARTIST BIO
Matteo Bonetti, in arte Mab, è nato a Morciano di R. il 01/04/1975 ed esercita la professione di avvocato presso il Foro di Rimini. Realizza i suoi lavori nel proprio laboratorio a San Clemente, un paese dell'entroterra riminese.
Ha frequentato per oltre dieci anni lo Studio del Maestro Umberto Corsucci a Montefiore Conca (RN), ove ha appreso i fondamenti della modellazione e della creazione plastica.
Si esprime principalmente attraverso l'utilizzo dell'argilla e delle terre in genere, spaziando anche nella ceramica, nella lavorazione del marmo, nell'utilizzo di resine e nella realizzazione di opere anche in bronzo. Nell'agosto del 2016 ha esposto l'opera in ceramica "Lo porterà l'onda" all'interno
della rassegna "Il bacio nella storia dell'arte", allestita presso gli spazi espositivi del Misam di Montefiore Conca (RN). Nel dicembre 2017 ha esposto le proprie opere nel centro di Rimini. Nel 2020 ha partecipato alla XVII° EDIZIONE di "Rocca di Luna" con un'opera dedicata al cinema di Fellini. Dal 22 luglio 2022 al 16 agosto 2022 si è tenuta la personale di scultura delle opere di Mab presso lo spazio 'Ex-Bubani' nella centralissima Piazza del Popolo di Ravenna.
Attualmente sta realizzando il ciclo delle 12 fatiche di Ercole.
Matteo Bonetti, aka Mab, was born in Morciano di R. April 1st, 1975. Not only an artist, Mab is a practicing lawyer in the Rimini court system. Mab gives his art life in his workshop in San Clemente, a small town in the Rimini countryside. He was a student under Maestro Umberto Corsucci, in Montefiore Conca (RN) for over ten years, where he learned the fundamentals of modeling and plastic creation. Mab expresses himself, above all, through clay and natural earth modeling materials, but his art also ranges from ceramics to bronze works.
In August of 2016, he exhibited his ceramic work within the exhibition, "The kiss in the history of art," at the Misam exhibition spaces in Montefiore Conca (RN). In 2017, he exhibited his works in the center of Rimini. In 2020 he participated in the 17th edition of "Rocca di Luna" with artwork dedicated to the cinematic work of Federic Fellini. In 2022, a solo sculpture exhibition of Mab's works was held at the 'Ex-Bubani' space in Ravenna's central Piazza del Popolo.
He is currently working on the cycle of the 12 Labors of Hercules.
L'INFAMIA DI CRETI
Corten, ferro, vetro, bronzo, terracotta
Corten, iron, glass, bronze, terracotta
[Dim 116x30x30 cm]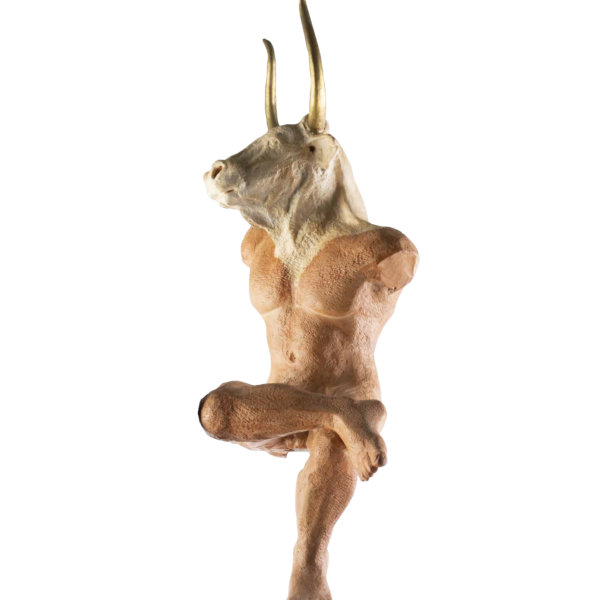 L'INFAMIA DI CRETI (2)
Corten, ferro, vetro, bronzo, terracotta
Corten, iron, glass, bronze, terracotta
[Dim 116x30x30 cm]